Regular price
$ 127.00
Sale price
$ 208.00
Detailed information
| | | |
| --- | --- | --- |
| Gemstone | Moissanite | CVD-PVD Diamond |
| Shape | Round | Round |
| Color | D Colorless | D Colorless |
| Clarity | VVS1 | VVS1 |
| Hardness | 9.25 | 9.00 |
| Certificate:  | US Moissanite certificate; International Moissanite certificate | - |
| Material: | 18K Gold Plated Silver | 18K Gold Plated Silver |
MW moissanite can pass the diamond test, Fake one-lose ten
All Products Pure Handmade Customize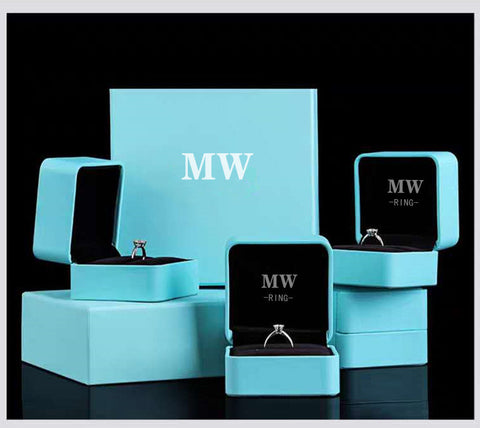 Understand MW
MW is a professional moissanite jewelry brand with excellent corporate culture. MW Moissanite is not diamond imitator. In other words, moissanite is a stone in its own right that just happens to look like diamonds. A high quality, well set piece of MW moissanite jewelry is as classy and sophisticated as any other gemstone.
Reasonable Budget, Luxury Enjoyment
In MW™, we make it possible to have top-exquisite jewelry. You can choose jewelry according to your preferences, handcrafted by master artisan without paying a heavy price. Immediately Join MW™.
MW™ has the same eye-catching visual appeal as any natural diamond on the market and can own one without much money. The price of regular diamonds usually costs thousands of dollars, but now it only needs 10%. MW™ saves this cost for you, without compromising the fact that you have a high-quality diamond.
MW™ is an ideal jewelry brand for those who choose to live according to their own conditions without following the status quo.
Environmentally Friendly, No Conflict
There has been a lot of talk about blood diamonds and the environmental impacts of diamond mining.
The diamond mining industry is fraught with controversial issues of exploitation, low-wages, dangerous working conditions, funding wars, unfair labor practices and so on. In addition to this, mined diamonds cause huge environmental devastation due to mining methods, destroying eco-systems and impacting sustainability. While much effort is now being taken to combat these issues, there's still a long way to go. Often tracing a diamond back to its original source can be very difficult.
Contrary to this, moissanites are eco-friendly and a sustainable choice, as they are produced in labs. You can easily trace them back to their source of origin.
MW™ is an environmentally friendly jewelry brand, because there has never been a mining activity to destroy the earth to prepare these amazing and bright gemstones! MW™ means taking control of your life, regardless of social conditions.
MW™ gemstones are responsible choices for environmentally conscious consumers. Those eager to make socially responsible buying decisions don't have to worry about conflict diamonds anymore.
MW Exclusive Service
One stone three certificates
MW Moissanite is provided with professional jewelry organization identification certificate. Above 0.5ct is provided with GRA International Certificate, American Moissanite Certificate and Product Quality Certificate. MW CVD Diamond provides a Product Quality Certificate.
Since the hardness of Moissanite is almost the same as diamond, it can pass the test of diamond and has international jewelry certificates. MW CVD Diamond, slightly lower hardness, can not pass the diamond test, only provide a product quality certificate.

Whole course insurance
For products purchased in MW, the delivery order will be insured throughout the whole process, and the express company will bear all the costs. Avoid the risk of customers buying expensive goods.

Lifetime service
You can enjoy life-long free cleaning, repair, renovation, maintenance and other after-sales services, so that your diamond can release the ultimate beauty at any time.
We provide high-standard quality certification for all products, we will conduct strict quality inspections before the jewelry leaves the factory, package packaging, and airport customs declaration.

However, since the hardness of sterling silver is lower than the K-gold, the inlay force of small stones is inadequate, they may fall off due to improper wearing or impact. If that happens, please contact us, we will reply to you within 24 hours and provide you with a solution.

Free Shipping
We offer free shipping worldwide and full purchase insurance for all products. You don't have to pay any freight and insurance.
Looking forward to you join us!!!
MW Jewelry Introduction
MW Jewelry is mainly engaged in the design and customization of moissanite jewelry. We are committed to everyone could have their own favorite high-end jewelry. Each jewelry is pure manually customized, and each detail is hand-polished to provide each customer with the most perfect jewelry.
MW jewelry metal has silver plated white gold, 14K gold, 18K gold. White gold, rose gold and yellow gold can be customized. K gold is real gold, the difference is that their gold content is different.
MW Silver Plated Gold
MW Silver Plated Gold is made of sterling silver, not alloy, not copper. And in order to ensure more stable and shiny, we adopt PVD technology to plated with a layer of 18K gold.
Physical vapor deposition(PVD) technology we adopt is the use of physical deposition phenomenon to separate the specific color of precious metal target into molecular state by magnetron sputtering technology in vacuum environment, so as to make it melt, atomize and cool. The conductive products are evenly and completely adsorbed on the surface, forming a fine, uniform and smooth new metal protection layer in the physical state.
The technology can make jewelry wear resistant, not afraid of scratches, bright color, not afraid of tarnish, natural comfort, lasting forever.
MW K-Gold
There are many low-priced "K gold" products on the market, but gold is the most precious metal. How can the price of real gold be so low? This makes us have to learn more details. When we order gold products, we first need to confirm the content of gold and its weight. In this way, we can identify a lot of fake K gold. These fake K golds often incorporate low-content gold into alloy rings and use other cheap metals to pretend to be gold. If we buy such a fake ring, we will not only lose money, but also hurt our fingers because of these cheap metals.
MW K-Gold products are real gold. Our gold ring does not weigh less than 4.0g. Generally, K-Gold is about 6.0g.
The parts of gold of 14K gold is 58.3%, and the parts of gold of 18K gold is 75.0%. We use enough gold to make sure that each K-gold product is full in weight and comfortable to wear. Buy the most gold at the lowest price.
https://mwring.com/collections/all
MW Moissanite
MW Moissanite is a perfect choice. It's more heat resistant than even diamonds, meaning that even if they were in a fire, they would still retain their sparkle and form. And since it has an extremely high level of brilliance and excellent light performance, it has much higher brilliance and fire than a diamond.
The hardness of moissanite is 9.25, it's almost the same as diamond. Only for the diamond and moissanite, it can pass the diamond test. Each moissanite has its unique waist code, and it is certified by the international famous professional appraisal organization and the global gemstone Research Association (GRA).
It's important to remember that moissanite is a stone in its own right and requires state-of-the-art technology, expertise and a high cost to synthesize it. It only costs about 10% of the price of a diamond. If you're thinking in terms of investment, moissanite is a good choice as moissanite has retained its value over the past decades.
MW CVD Diamond
MW CVD Diamond is also a hard stone. It is lab created high carbon gemstone. By absorbing the advantages of PVD technology to improve CVD synthesis technology, MW CVD Diamonds is more stable and shining. It's the diamond imitator, not cubic zircon, hardness ranking at 9.0. It has an RI 2.27 – 2.31, which is lower than moissanite. But because it contains carbon, it also has a very beautiful fire color and high brilliance. It cannot pass the diamond test. Since it can not pass the diamond test, only has product quality certificate.
The Final Verdict…
Although MW CVD Diamonds is a more affordable choice, we would have to choose moissanite as the better diamond simulant of the two, owing to its durability, brilliance and value.
In terms of prestige and class, nothing can take the place of a diamond, but moissanite comes close. Moissanite, unfortunately, will always be considered inexpensive and of little value.
When deciding between the two, lay down your budget and your priorities. And chances are no one would ever know the difference. At a glance, diamonds, moissanite and MW CVD Diamonds all look alike.
MW committed to everyone can have their own favorite high-end jewelry. MW products have lifetime quality assurance. If our product is damaged accidentally, we provide the free repair service.
Shop now👉https://mwring.com/collections/all
MW Manual Custom Jewelry
The jewelry you wear is an expression of your personality, passions, and lifestyle. While creating a custom designed piece may seem overwhelming, we are experienced at simplifying the process and making even complex designs accessible. Our designers will work together with you to develop a unique design that reflects your vision and budget. Our custom design specialists will bring your inspiration to life by combining the latest design technology with our dedication to artistry and fine craftsmanship.
Note: most custom design pieces take 10-15 days for completion.
STEP 1: QUOTE REQUEST
Contact us to receive a complimentary price quote based on your design concept, precious metal, gemstones, and ring size. MW Email: service@mwring.com
STEP 2: CONCEPT
Our jewelry designers will take your ideas, drawings and images and work together with you to create a design concept. Our staff of GIA Graduate Gemologists can help you select the perfect gem for your design. The possibilities are endless. From the gorgeous purple amethyst to the dark blue sapphire as well as the classic colorless lab grown diamond also known as synthetic diamond. Design your perfect ring!
STEP 3: CAD MODELS (3D)
Once your design concept has been finalized and an order placed, we will create a computerized (CAD) model which displays multi-angled renderings of your piece. Images of your CAD model will be sent for you to approve or request modifications to your design.
STEP 4: APPROVAL & FINISHED PIECE
Upon your final approval, our production team will cast your design in the recycled precious metal of your choice. Your gemstones are then meticulously set by our expert craftsmen. Your beautifully finished piece is then thoroughly inspected by our Quality Assurance team and shipped in our distinctive.
THE POSSIBILITIES ARE ENDLESS
Ring Size Guide
How to measure a diamond ring size?
To determine the size of your diamond ring:
1. Wrap it around the root of the finger with a string or floss.
2. Mark the point at the end of the chord with a pen.
3. Measure the chord with a millimeter ruler.
4. Select the size closest to the above table to find your diamond ring size.

Why don't I know the size of her diamond ring size?
Here are five ways to find out your girlfriend's diamond ring size cleverly.
1. "Borrow" her jewelry. If she already has a diamond ring on her ring finger (even on her right hand), this can be a guide.
2. Call a friend. Recruit her best friend, sister or mother to help you.
3. Hold her hand.
4. Put a string on it.
5. guess a guess.

Reminder:

Please confirm RING SIZE again after placing the order.
MW Shopping Experience Store
US Shop:48th Ave Hillsboro Oregon
🕒Business Hours
10:00-18:30
US Store: Fords Ln, Baltimore, Maryland
🕒Business Hours
10:00-18:30
UK Shop:159 Reepham Rd Norwich
🕒Business Hours
10:00-18:00
HK Shop:14 Science Museum Road Kowloon
🕒Business Hours
10:00-21:00
HK Store: 193 Prince Edward Road West, Mongkok
🕒Business Hours
10:00-21:00
HK Store: 418 Kwun Tong Rd, Kwun Tong
🕒Business Hours
10:00-21:00
HK Store: The Westwood, Belcher's St, Kennedy Town
🕒Business Hours
10:00-21:00
AU Store: 330 Pinjarra Rd, Mandurah
🕒Business Hours
10:00-18:00
FR Store: D117, 93370 Montfermeil
🕒Business Hours
10:00-18:30
CAN Store: Mountainview Dr, Houston, BC
🕒Business Hours
10:00-18:00
CHN Store:Shiji Road Pudong New District, Shanghai
🕒Business Hours
10:00-21:00
CHN Store:Wangjing Road, Wangjing Street, Chaoyang District, Beijing
🕒Business Hours
10:00-21:00
Reviews
I am a jeweler and a long-time Moissanite enthusiast. I have several stones from Charles and Covard that paid a lot more money for, but I have to say that the MW Moissanite in comparison is simply stunning. The color is flawless and the sparkle is unstoppable. The ring itself is well made, and so lovely down to the smallest detail. Definitely buy this ring!
Hillary
LOL this is the ring set that I customised/ordered! :) My first Moissanites, and I must say, they are truly beautiful! The craftsmanship and fine details of these rings are amazing, nothing to fault. I was looking for a simple yet elegant replacement to my Diamond ring set of $20K, and I'm extremely impressed with this set. They're so beautiful and quality very comparable to my diamond ring set but at a minuscule fraction of the cost. I totally recommend MW Moissanites. It was actually my first-time ordering jewellery online, so I was very sceptical and afraid to order at first, but totally glade I did!
Rosemary Sab
Hello everyone. I customised my rings with MW With 18 ct gold and gem sizes I want, customisation process was two weeks, only with messaging on messenger with all details and updates and I received them in one week exactly as they advised this company is genuine and professional their customisation so professional and the rings look like real diamonds all moissanite have Gra inscribed on them. I tested them with magnifier and all moissanite Gra certificates were provided never doubt so nice and beautiful like real ones 👍👍
Abir Jamal El Ddine
These stones are INCREDIBLE! Truly beautiful. I compared them to my real diamonds that have top notch clarity, color, and cut, and honestly these outshine them. I am sort of annoyed we ever spent $12,000 on real diamonds!
EmilyKay
This moissanite ring is beautiful! It was a Mother's Day gift after losing my engagement ring a couple years ago. I actually wanted a Moissiante because of the cruelty free aspect but took me a while to find one that I really like. So far, this is awesome. It's so sparkly.
Eillasanne
This ring is gorgeous! It is exactly what I wanted! This one is clean and perfectly simple! I want to add my very jewelry savvy (to be) mother in-law, who wears a moissanite stone ring has no clue! I get so many compliments on it. Don't think anymore of whether or not you should buy this ring, BUY this ring!
Laura lopez
This moissanite stone is exquisite. I purchased a 0.3ct stone from a US supplier for close to this price, and it is no better in cut, color, or clarity. Both stones tested moissanite on my dual (diamond/moissanite) tester. Don't be put off by unbelievable low price, buy with confidence. I know I sound like I received some compensation for this review, but I did not. I just believe in voicing my opinion good for bad!
Bernice R
This ring is gorgeous!! I bought it to pair with my diamond eternity band, and I could not be more thrilled with how they look together! This is my first experience with mossinate and I am sold for life! This ring is beautifully made and the sparkle is awesome!! I just wish I would have bought the set with the matching wedding band too!!! I will definitely buy from MW again!
Sobresida