MW602 Narcissus Emerald Ring
Regular price
$ 475.00
Sale price
$ 766.00
Detailed information

| | |
| --- | --- |
| Gemstone | Emerald |
| Shape | Radiant |
| Clarity | VVS1 |
| Hardness | 9.00 |
| Total Carat | 1.00ct/2.00ct/3.00ct |
| Certificate | International Gem Certificate |
| Material | 18K Gold Plated Silver; 14K Pure Gold; 18K Pure Gold |
| K-Gold | White Gold; Yellow Gold; Rose Gold |
| Gold Rate | 14K Gold 58.3%; 18K Gold 75.0% |
Note: Default delivery white gold for K-gold, please indicate in special instructions for seller when placing an order, if you need Rose or Yellow of K-gold or requests.
MW SHIPPING
All our jewelry is packaged in beautiful presentation boxes.These boxes are made of high-end synthetic leather.
When you place an order in MW jewelry, the work starts immediately. Each order is carefully handmade by our professional craftsmen. The orders of K-gold materials and customized orders from customers will also confirm the design drawings of the rings with customers to further ensure that the customized rings are consistent with what customers want.

Whole course insurance
The transportation of all orders is divided into standard distribution, FedEx and DHL transportation. The customer can select the required transportation mode when placing an order.
For all products purchased from MW jewelry, we will insure the whole process of shipment and transportation, and all expenses shall be borne by the express company. Avoid the risks that may occur during transportation when customers buy expensive goods.

After each order is sent, we will inform the customer by email of the sending time and the shipping number. And after the delivery of the shipping order is displayed, send an email again to confirm the delivery of the package with the customer to ensure that each order is delivered to the customer.

MW jewelry is committed to serving every customer, so that everyone can have their own favorite jewelry.
Understand MW
MW is a professional moissanite jewelry brand with excellent corporate culture. MW Moissanite is not diamond imitator. In other words, moissanite is a stone in its own right that just happens to look like diamonds. A high quality, well set piece of MW moissanite jewelry is as classy and sophisticated as any other gemstone.
Our jewelry represents our love for humanity and respect for the environment by providing quality and value at an affordable price point. In addition to the MW Moissanite, we offer Lab-Grown Diamonds (Lab Diamonds) as well as ethically sourced Earth-Mined Diamonds (Natural Diamonds).
MW Diamonds began as a small company and is now a second-generation business that has grown to include a team of in-house designers, master bench jewelers, and customer service associates with over 70 years of combined experience. We take pride in designing and manufacturing designer jewelry that our customers can feel good about wearing.
We have years of experience in online shopping support and our friendly and qualified jewelers and customer service experts are ready to help you on a personal one-to-one basis to ensure an excellent experience and easy access to the information you need about buying the perfect diamond ring.
Our Mission
Our goal at MWring is to offer unique and beautiful designer jewelry at an affordable price point. We also know that without our customers, we would not have a business. Offering outstanding customer service and ensuring an excellent experience for each customer are our highest priorities, and we strive to make every experience memorable and ensure satisfaction with the final product. If you are looking to design your own personal one-of-a-kind engagement ring, our customer service and jewelry personnel are fully trained to help you with all your questions and/or concerns about our gemologist-approved synthetic diamonds as well as the custom design process. If you're new to buying jewelry, we can help you take the next step in purchasing a diamond engagement ring for your fiancé.
Quality Craftsmanship
Every piece of jewelry by MWring is manufactured with the highest quality materials and finished by artisan jewelers. Our fabrication and custom design techniques utilize cutting-edge technologies alongside proven, old-world jewelry-making methods. Many gemologists and jeweler experts agree that the MW Diamond is one of the premier Diamond Alternatives in the world. MW Diamonds makes every piece of jewelry to order, assuring exceptional high-quality craftsmanship.
Our Moissanite and lab grown diamonds best resemble the look, brilliance and sparkle of a natural diamond. Whether you're interested in purchasing a beautiful ring or necklace for your fiancé, MW Diamonds only sells brand new pieces of jewelry. MW Diamonds wants you to be completely satisfied with your new engagement diamond ring or necklace. You can shop with us with the peace of mind knowing that your jewelry comes with our written Lifetime Warranty against any defects of manufacturing.
Affordable Prices
The quality and craftsmanship of our jewelry match the leading brands in the jewelry industry at a fraction of the price. At MWring, our customers benefit from buying at our low wholesale prices, instead of paying 2–10 times more at other jewelry stores. We manufacture our own jewelry, so we don't have to pay commissions and profits to other distributors and can pass the savings directly to you.
Unlike other low quality synthetic diamonds in the jewelry industry, our simulated diamonds are guaranteed not to fade or lose their sparkle. Our gemologist-approved Lab Grown Diamonds (lab diamonds) are as beautiful in real life as they look online, so you are sure to get compliments on your engagement ring the first day you start wearing it. To provide a great experience and ensure that you find the perfect ring, all our jewelry comes with free shipping and 30 Days Return. Our customer service professionals can guide you through the entire process of shopping for the perfect ring.
Conflict-Free
Our Diamonds and Lab-Grown Diamonds provide a conflict-free alternative to Natural Earth-Mined Diamonds, making MW Diamonds a great place to shop for the perfect ring. Our Lab Diamonds and Moissanite are 100% Conflict-Free with minimal impact on humanity, so you can purchase a beautiful ring without worrying about harming the environment.
Looking forward to you join us!!!
MW Jewelry Introduction
MW Jewelry is mainly engaged in the design and customization of moissanite jewelry. We are committed to everyone could have their own favorite high-end jewelry. Each jewelry is pure manually customized, and each detail is hand-polished to provide each customer with the most perfect jewelry.
MW jewelry metal has silver plated white gold, 14K gold, 18K gold. White gold, rose gold and yellow gold can be customized. K gold is real gold, the difference is that their gold content is different.
MW Silver Plated Gold
MW Silver Plated Gold is made of sterling silver, not alloy, not copper. And in order to ensure more stable and shiny, we adopt PVD technology to plated with a layer of 18K gold.
Physical vapor deposition(PVD) technology we adopt is the use of physical deposition phenomenon to separate the specific color of precious metal target into molecular state by magnetron sputtering technology in vacuum environment, so as to make it melt, atomize and cool. The conductive products are evenly and completely adsorbed on the surface, forming a fine, uniform and smooth new metal protection layer in the physical state.
The technology can make jewelry wear resistant, not afraid of scratches, bright color, not afraid of tarnish, natural comfort, lasting forever.
MW K-Gold
There are many low-priced "K gold" products on the market, but gold is the most precious metal. How can the price of real gold be so low? This makes us have to learn more details. When we order gold products, we first need to confirm the content of gold and its weight. In this way, we can identify a lot of fake K gold. These fake K golds often incorporate low-content gold into alloy rings and use other cheap metals to pretend to be gold. If we buy such a fake ring, we will not only lose money, but also hurt our fingers because of these cheap metals.
MW K-Gold products are real gold. Our gold ring does not weigh less than 4.0g. Generally, K-Gold is about 6.0g.
The parts of gold of 14K gold is 58.3%, and the parts of gold of 18K gold is 75.0%. We use enough gold to make sure that each K-gold product is full in weight and comfortable to wear. Buy the most gold at the lowest price.
MW Moissanite
MW Moissanite is a perfect choice. It's more heat resistant than even diamonds, meaning that even if they were in a fire, they would still retain their sparkle and form. And since it has an extremely high level of brilliance and excellent light performance, it has much higher brilliance and fire than a diamond.
The hardness of moissanite is 9.25, it's almost the same as diamond. Only for the diamond and moissanite, it can pass the diamond test. Each moissanite has its unique waist code, and it is certified by the international famous professional appraisal organization and the global gemstone Research Association (GRA).
It's important to remember that moissanite is a stone in its own right and requires state-of-the-art technology, expertise and a high cost to synthesize it. It only costs about 10% of the price of a diamond. If you're thinking in terms of investment, moissanite is a good choice as moissanite has retained its value over the past decades.
MW CVD Diamond
MW CVD Diamond is also a hard stone. It is lab created high carbon gemstone. By absorbing the advantages of PVD technology to improve CVD synthesis technology, MW CVD Diamonds is more stable and shining. It's the diamond imitator, not cubic zircon, hardness ranking at 9.0. It has an RI 2.27 – 2.31, which is lower than moissanite. But because it contains carbon, it also has a very beautiful fire color and high brilliance. It cannot pass the diamond test. Since it can not pass the diamond test, only has product quality certificate.
The Final Verdict…
Although MW CVD Diamonds is a more affordable choice, we would have to choose moissanite as the better diamond simulant of the two, owing to its durability, brilliance and value.
In terms of prestige and class, nothing can take the place of a diamond, but moissanite comes close. Moissanite, unfortunately, will always be considered inexpensive and of little value.
When deciding between the two, lay down your budget and your priorities. And chances are no one would ever know the difference. At a glance, diamonds, moissanite and MW CVD Diamonds all look alike.
MW committed to everyone can have their own favorite high-end jewelry. MW products have lifetime quality assurance. If our product is damaged accidentally, we provide the free repair service.
Ring Size Guide
Ring Size Guide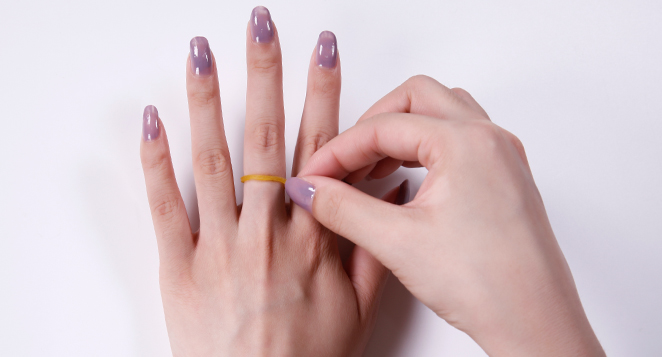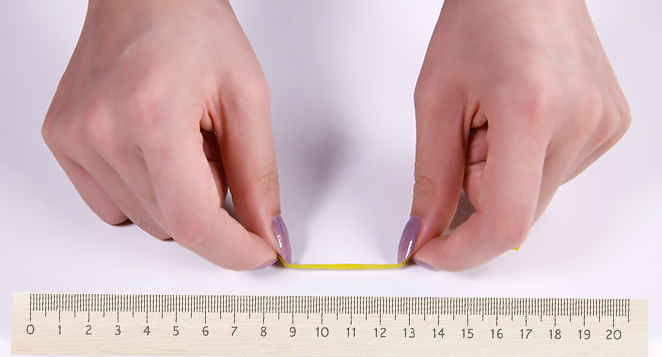 This is a chart that will be extremely helpful for you to determine the ring size that you need. You can either make use of a tape or a small piece of string to measure the area that will be occupied by the ring. When it becomes a complete circle, make a mark on such string. This will be helpful for you to compare with the chart that is mentioned below.
| | | | | | | |
| --- | --- | --- | --- | --- | --- | --- |
| US / Canada | UK / Australia | France / Germany | Italy | Japan | Diameter | Circumference |
| | | | | | MM | MM |
| 3 | F | 44 | 4 | 4 | 14.1 | 44.2 |
| 3.5 | G | 46 | 5 | 5 | 14.5 | 45.5 |
| 4 | H | 47 | 6 | 7 | 14.9 | 46.8 |
| 4.5 | I | 48 | 8 | 8 | 15.3 | 48 |
| 5 | J-½ | 50 | 10 | 9 | 15.7 | 49.3 |
| 5.5 | K-½ | 51 | 11 | 10 | 16.1 | 50.6 |
| 6 | L-½ | 52 | 12 | 11 | 16.5 | 51.9 |
| 6.5 | M-½ | 53 | 13 | 13 | 16.9 | 53.1 |
| 7 | N-½ | 54 | 15 | 14 | 17.3 | 54.4 |
| 7.5 | O-½ | 56 | 16 | 15 | 17.7 | 55.7 |
| 8 | P-½ | 57 | 17 | 16 | 18.1 | 57 |
| 8.5 | Q-½ | 58 | 18 | 17 | 18.5 | 58.3 |
| 9 | R-½ | 59 | 20 | 18 | 19 | 59.5 |
| 9.5 | S-½ | 61 | 21 | 20 | 19.4 | 60.8 |
| 10 | T-½ | 62 | 22 | 21 | 19.8 | 62.1 |
| 10.5 | U-½ | 63 | 24 | 22 | 20.2 | 63.4 |
| 11 | V-½ | 64 | 25 | 23 | 20.6 | 64.6 |
| 11.5 | W-½ | 66 | 26 | 25 | 21 | 65.9 |
| 12 | X-½ | 67 | 27 | 26 | 21.4 | 67.2 |
| 12.5 | Z | 68 | 28 | 28 | 21.8 | 68.5 |
| 13 | Z+1 | 70 | 30 | 29 | 22.2 | 69.7 |
| 13.5 | Z+1.5 | 71 | 31 | 30 | 22.6 | 71 |
| 14 | Z+3 | 72 | 32 | 31 | 23 | 72.3 |
| 14.5 | Z+4 | 73 | 33 | 32 | 23.4 | 73.5 |
| 15 | Z+5 | 74 | 35 | 33 | 23.8 | 74.8 |
MW Manual Custom Jewelry
The jewelry you wear is an expression of your personality, passions, and lifestyle. While creating a custom designed piece may seem overwhelming, we are experienced at simplifying the process and making even complex designs accessible. Our designers will work together with you to develop a unique design that reflects your vision and budget. Our custom design specialists will bring your inspiration to life by combining the latest design technology with our dedication to artistry and fine craftsmanship.
Note: most custom design pieces take 10-15 days for completion.
STEP 1: QUOTE REQUEST
Contact us to receive a complimentary price quote based on your design concept, precious metal, gemstones, and ring size. MW Email: service@mwring.com
STEP 2: CONCEPT
Our jewelry designers will take your ideas, drawings and images and work together with you to create a design concept. Our staff of GIA Graduate Gemologists can help you select the perfect gem for your design. The possibilities are endless. From the gorgeous purple amethyst to the dark blue sapphire as well as the classic colorless lab grown diamond also known as synthetic diamond. Design your perfect ring!
STEP 3: CAD MODELS (3D)
Once your design concept has been finalized and an order placed, we will create a computerized (CAD) model which displays multi-angled renderings of your piece. Images of your CAD model will be sent for you to approve or request modifications to your design.
STEP 4: APPROVAL & FINISHED PIECE
Upon your final approval, our production team will cast your design in the recycled precious metal of your choice. Your gemstones are then meticulously set by our expert craftsmen. Your beautifully finished piece is then thoroughly inspected by our Quality Assurance team and shipped in our distinctive.
THE POSSIBILITIES ARE ENDLESS
Reviews
I tend to be skeptical when I buy jewelry online. HOWEVER, I just received this bracelet. Let just tell you - if you are on the fence about buying this for your Wife, Mother or someone significant in your life. "Don't hesitate" First off -- the packaging was wonderful -- in a pretty green box with MW on top. when you open the box and pick up the plastic bag with your bracelet inside-the first thing you will notice is the weight of the bracelet. Then when you put on the bracelet -- you will see such fire and sparkle. Every stone is put into place with precision and accuracy. I TRULY LOVE IT. I will buy all my jewelry from MW. Thank you, MW -- you are a game changer.
Janeiro Haywood
I am a jeweler and a long-time Moissanite enthusiast. I have several stones from Charles and Covard that paid a lot more money for, but I have to say that the MW Moissanite in comparison is simply stunning. The color is flawless and the sparkle is unstoppable. The ring itself is well made, and so lovely down to the smallest detail. Definitely buy this ring!
Hillary
My first Moissanites, and I must say, they are truly beautiful! The craftsmanship and fine details of these rings are amazing, nothing to fault. I was looking for a simple yet elegant replacement to my Diamond ring set of $20K, and I'm extremely impressed with this set. They're so beautiful and quality very comparable to my diamond ring set but at a minuscule fraction of the cost. I totally recommend MW Moissanites. It was actually my first-time ordering jewellery online, so I was very sceptical and afraid to order at first, but totally glade I did!
Rosemary Sab
I absolutely love my solitaire 1 carat moissanite necklace. My engagement ring is a 0.50 carat mined diamond. You cannot see the difference in brilliance. I am so happy and satisfied and ordering a 2 carat ring next time. Why spent so much when you can get the same result ?
Lilia Pyle
Hello everyone. I customised my rings with MW With 18 ct gold and gem sizes I want, customisation process was two weeks, only with messaging on messenger with all details and updates and I received them in one week exactly as they advised this company is genuine and professional their customisation so professional and the rings look like real diamonds all moissanite have Gra inscribed on them. I tested them with magnifier and all moissanite Gra certificates were provided never doubt so nice and beautiful like real ones 👍👍
Abir Jamal El Ddine
When I first decided to purchase from MWRing, I was very nervous. I had emailed the company asking questions, not sure which ring I wanted. Customer care responded in a timely manner and was extremely helpful in helping me decide which ring. When I received the ring it was so beautiful. Great quality. I have now purchased two rings from MWRings, and have been nothing but happy with this company. The customer service is phenomenal. And the ring quality is stunning! I am very happy and will refer this company to everyone. Thank you MWRing for being professional and providing beautiful stones !
Zae Long
This moissanite stone is exquisite. I purchased a 0.3ct stone from a US supplier for close to this price, and it is no better in cut, color, or clarity. Both stones tested moissanite on my dual (diamond/moissanite) tester. Don't be put off by unbelievable low price, buy with confidence. I know I sound like I received some compensation for this review, but I did not. I just believe in voicing my opinion good for bad!
Bernice R
This ring is absolutely stunning. The sparkle from it is captivating, I purchased a 3CT 14K Gold and I can't believe how happy I am with the size and quality of this ring. Customer Service were very responsive and the process was exactly as described until delivered. I am already looking at other pieces to purchase. I would highly recommend this company and going by this stunning piece I received, I will be a repeat customer. A+++++
Dina Hanania
Absolutely Fabulous from start to finish, I was kept up to date in terms of dispatch and tracking my order to the Canary Islands. This the 5th Ring I have ordered from MW, the quality is excellent, so much so, that my friend has just ordered 2 for herself!
David
May 1st I was purposed to with one of these stunning rings , I have never seen something so beautiful in my life , the shine and sparkle had me starring at it so long I forgot what was going on . He got me a 3ct and I have had more people ask about it and tell me how beautiful it is than ever . I will never go back to diamonds, MW thank you for making my ring so perfect and special, this ring is truly something that will cherish forever. To say I'm very pleased is an understatement, you have taken special moments to the next level .
Kimberly Anderson
This ring is gorgeous!! I bought it to pair with my diamond eternity band, and I could not be more thrilled with how they look together! This is my first experience with mossinate and I am sold for life! This ring is beautifully made and the sparkle is awesome!! I just wish I would have bought the set with the matching wedding band too!!! I will definitely buy from MW again!
Sobresida